Virtual Reality Rentals in NYC-NJ-CT & Nation-wide Service!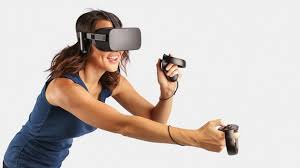 Step into the exciting world of Virtual reality rentals for gaming and entertainment with the latest in technology from Oculus Rift, HTC Hive, Samsung Gear VR.  The new VR systems are a totally immersive experience where your head and hand movements control the all action!
While you are interacting with our VR experience through our Hi tech headset, the other guests & attendees can watch the action on a large overhead LED screen.  See and feel the games in a totally new, immersive experience- right at your special event.  Choose from a variety of games and experiences…immerse your guests in this unique virtual world! 
Contact us for more information and event date availability.
Virtual Reality Rentals at your Next Meeting, Convention or Special Event!
Enter our virtual reality activations and strap on the headgear and be prepared to be immersed in the digital world!  Amazing selection of games and experiences that can be customized for Education & Training, Real Estate or Entertainment purposes…Perfect at your next Corporate or Special event.
Onsite VR Headset Rental setups:
Our Virtual Reality rentals including Oculus Rift, Samsung Gear VR or PlayStation VR headset Systems delivered to your Special Event!  Perfect for Corporate events, Trade Shows & Private Events.  We provide our gaming setups right onsite at your special event and also have the most cutting edge Immersive experiences with amazing games & films. Also check out all our other attractions that come with the oculus goggles-  we can apply virtual reality to the following themes for your corporate needs:  Entertainment, Real Estate, Medical, Business and training resources.
The Best VR Experiences…Over hundreds of Experiences to choose from!



Our Virtual Reality Rentals all include the following:
1. Pre-event Consultation session:
We will help you craft the perfect theme & experience for your guests & clients!
2.  Equipment Rental:
We will provide you with the top of the line equipment & event experiences for your guests to enjoy.  Let us know approx. event attendance and we will recommend number of headset units for the event. 
3. Event Staffing:
We will help execute the event and ensure your guests have an amazing time while growing your brand awareness & generating new leads.
For more information and to receive a quote, please contact us and we'll get back to you with pricing.
The definition of virtual reality comes, naturally, from the definitions for both 'virtual' and 'reality'. The definition of 'virtual' is near and reality is what we experience as human beings. So the term 'virtual reality' basically means 'near-reality'. This could, of course, mean anything but it usually refers to a specific type of reality emulation.We know the world through our senses and perception systems. In school we all learned that we have five senses: taste, touch, smell, sight and hearing. These are however only our most obvious sense organs. The truth is that humans have many more senses than this, such as a sense of balance for example. These other sensory inputs, plus some special processing of sensory information by our brains ensures that we have a rich flow of information from the environment to our minds.
Everything that we know about our reality comes by way of our senses. In other words, our entire experience of reality is simply a combination of sensory information and our brains sense-making mechanisms for that information. It stands to reason then, that if you can present your senses with made-up information, your perception of reality would also change in response to it. You would be presented with a version of reality that isn't really there, but from your perspective it would be perceived as real. Something we would refer to as a virtual reality.
Contact us for more information on how we can help enhance your Special event with our Virtual Reality Experiences!
NextGen Photo Booth

700 Blvd East
Weehawken
,
NJ
,
07086
United States (US)
Phone:

212-729-7017
Email: info@nextgeneventco.com
URL: http://nextgeneventco.com/