Sports Trading Cards Printed Onsite at your Special Event!
The AMAZING new way to add a WOW factor to your Special event that is totally customized to your needs.  You pick the special theme or sport relevant to your event, we custom design the layout and then we will provide awesomely custom printed trading cards INSTANTLY right onsite at your event!
We can custom-create a special branded trading card layout for you or use our existing sports templates. Our NextGen Trading card format is an amazing favorite at special events, allowing for the host to completely customize the look & theme of cards to be printed onsite at the event.  Have a custom idea for tailored to your special event, no problem-  contact us for a quick brainstorming session and we'll help you with the concept, graphic design and event execution!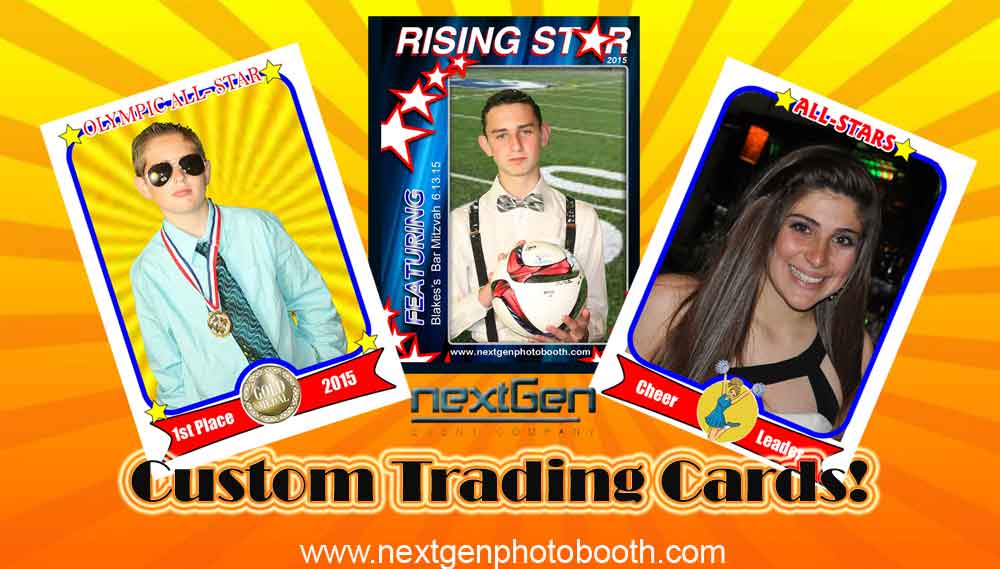 We utilize our Green Screen technology and have access to hundreds of images to use for your event backgrounds…We've worked with some of the biggest brands in the business:  HBO, P&G, Unilever, Verizon, Prudential, I Heart Radio to cite a few corporate examples.
Our cards allow for single or double sides to be printed on, the backing of card can have personalized information or company branding with #hashtags.   Digital images can also be shared in social media on the spot with our social sharing kiosks or photo uploads to email.  We'll brainstorm with you on the perfect trading card style to provide at your event, providing excellent branded photo favors shared in social media propelling your brand awareness.
Include a special event #hashtag or website URL on cards to direct your guests to a special offer or branded site.  Corporate events can tailor the trading card themes to sports, entertainment or promote their brand identity.  Our Trading Card photo activation will surely be the talk of the event and provide ROI advancing your brand recognition and lead generation for your company.
For more information on our services, please contact us for pricing and date availability for your next event photo activation.